Coyote Coffee Equipment is your Phoenix, Arizona sales, service and supplier of the La Pavoni Espresso machine line. La Pavoni is credited with inventing the very first espresso machine in 1902 and has maintained a rich history of fine espresso machine design and manufacturing ever since. Contact us for pricing and availability.
For the past 30 years, La Pavoni has introduced new ideas and created panels in thermoplastic materials, speeding up the production cycle considerably. Great attention has been paid to ergonomics, as well as to research into new technological developments. Following are two excellent examples:
La Pavoni BAR-star 3V-B 3 Group volumetric, Black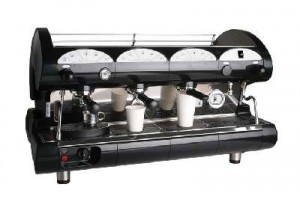 NSF/CSA certified commercial espresso machines, the BAR-STAR series. These are the only models sold in the U.S. to carry both these U.S and Canadian certifications. The Bar-Star and Hotel units are equipped with the latest technology such as a 4-position energy saving power switch that reduces electrical power by 33% during night and off hours resulting in major cost savings. Thermal stability to the coffee groups ensure a constant temperature and pre-infusion of the coffee grounds allow for consistent, balanced shots of coffee. Additional features such as a second steam wand and water softner are standard equipment on most la Pavoni models.
Electronic programmable dosing espresso machine with digital control pad and microprocessor. Four cup size selections including continuous brewing and an instant-stop button. Hot water jet is controlled by a push-button with automatic release. Each unit comes standard with two steam jets. Contact us for quote and availability.
Groups made with press-forged brass and chrome plated, with vertical infusion chamber and pressurization system which eliminates group dripping*
Copper boiler equipped with front mounted transverse heat exchangers and injectors for each group Allows for front machine access in case of repairs*
Thermal stability: Independent radiator hydraulic system for every group allows for consistent water circulation throughout the boiler*
Manual boiler water charge button: Used to refresh the water in the boiler *
Anti-vacuum valve eliminates liquids from back flushing into the steam wand*
Double scale gauge for pump and boiler pressure control *
Electronic automatic water level control with sight glass*
One flexible steam jet with anti-drip spring taps.*
Programmable hot water button with telescopic flexible jet.*
Four position energy saving power switch: Power reduced by 33% during off hours*
Electrical heating is protected by a 3-pole manual reset thermostat w/auto shut-off*
Internal electric pump*
Telescopic side handles for machine transport*
Installation kit (fittings and hoses)*
NSF Certification*
Second flexible steam jet*
Water Softener (12 Liters)*
Color: Golden Black
*Indicates Equipment is Standard
CAUDRA Commercial espresso machine, CUA001-R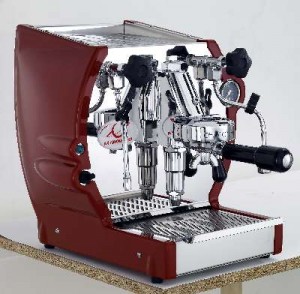 This is an excellent alternative to a full size machine. The Cuadra is perfect for business's which require a low cost espresso maker for lower volume daily servings. Rated for up to 60 drinks per day, the Cuadra is manufactured to full commercial specifications including coffee handle, group, boiler and separate pressurstates for coffee and water delivery. Easily portable as a catering unit.
Espresso, cappuccino, latte, hot chocolate and teas can be easily and quickly prepared. Requires only a 15 minute morning warm-up then the Cuadra can be left on all day. Perfect as a market tester, catering service, backup machine or home unit. Made in Italy. Also available in Black. Contact us for quote and availability.
FEATURES:
Side lever coffee delivery
Copper boiler 1.8 liter
Stainless steel front & back panels
with metal side panels
Water tank 3 liter (Removable)
Low water indicator
Mounted pressure gauge
Vibration pump 110V
One steam wand, One hot water tap
Professional 58mm brewing group
and coffee handle
Power: 1400W/110 Volt
Height: 15"
Width: 15"
Depth: 16"
Weight: Gross 50lbs.-Net 42 lbs.
Model: CUA001-R